Company plans biorefinery for zero-emission heating oil in Maine
October 29, 2020
Biofine Developments Northeast Inc. of Bangor has formed a partnership with Sprague Resources LP to produce a patented biofuel made from forest product waste.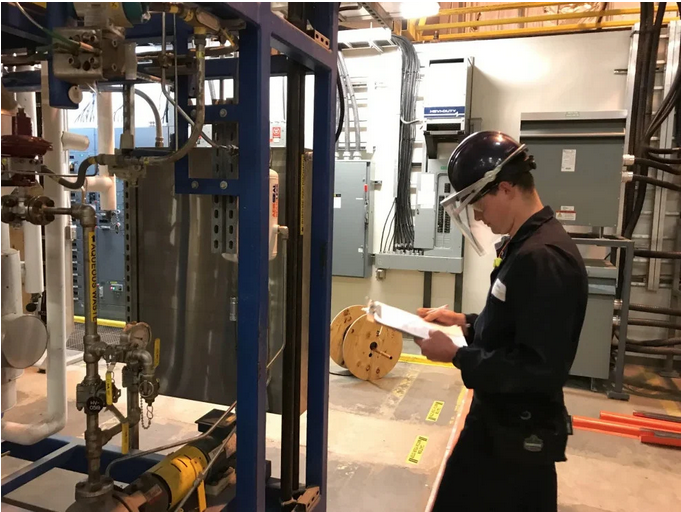 A technician takes a reading from an apparatus that turns wood waste into biofuel in this 2017 photo of Biofine's test facility in Old Town. The company plans to open another facility in Maine to produce its zero-emission heating oil on a commercial scale.
Photo Credit: Tux Turkel/PPH Staff Writer
A research and development company that has spent nearly 20 years honing new ways to turn woody waste into commercially viable energy and chemicals says it is close to building a biorefinery in Maine that will produce zero-emission heating oil.
Biofine Developments Northeast Inc. of Bangor said it has formed a partnership with New Hampshire-based wholesale energy supplier Sprague Resources LP to help produce and market a patented biofuel made from 100 percent ethyl levulinate, an organic chemical compound often referred to as EL.
Biofine said it hopes to finalize the site of its first biorefinery within the next month and be operating by 2023. The plant would process 100 tons a day of cellulose-based waste, primarily from paper and lumber mills, to make 3 million gallons of heating oil a year. It also would produce a side stream of renewable chemical byproducts that can be sold.
Biofine is working with Treadwell Franklin Infrastructure Capital, a developer and financier involved in other Maine ventures, to help it bring the project to commercial scale and raise $70 million from private investors.
Read the full article from the Portland Press Herald.