Years in the making, a $55M cold-storage facility breaks ground in Portland
August 23, 2022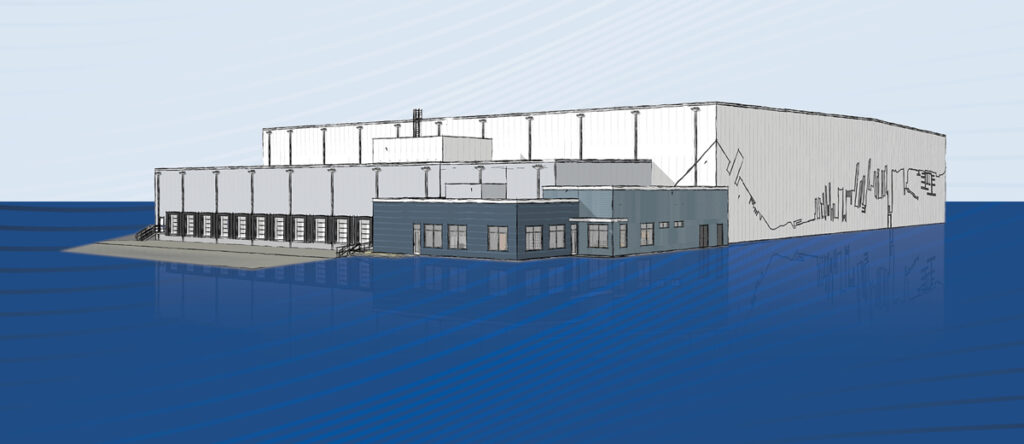 A long-delayed project to create a cold-storage warehouse on Portland's waterfront was set to break ground Monday and head toward a February 2024 completion date.
The project, which was approved by the Portland Planning Board in October 2020 and did not require a City Council vote, has an estimated cost of $55 million.
The warehouse is expected to complement key Maine industries, including lobster, fish, biopharmaceutical products, wild blueberries and craft beer. It has long been considered a vital piece of regional infrastructure, providing refrigerated storage space while products wait to be shipped via rail, truck or container ship.
With construction costs rising, the estimate exceeds last August's estimate of $40 million, and a pre-pandemic estimate of $25 million to $38 million.
The 107,000-square-foot facility will have 85,500 square feet of storage area and a rooftop solar array with a generation capacity of 828,000 kilowatt-hours annually.
Monday's ceremonial groundbreaking follows the signing of a 50-year ground lease between the Maine Port Authority and the Maine International Cold Storage Facility, as the project is formally known.
The warehouse will be used for goods from seafood and agricultural products to biopharmaceuticals requiring refrigeration. The consortium behind the project includes Icelandic-owned Eimskip, which has been operating out of Portland's International Marine Terminal since March 2013. Other members include U.K.-based Amber Infrastructure Group and Treadwell Franklin Infrastructure, headquartered in Yarmouth, in partnership with the Maine Department of Transportation.
The consortium was formed to revive a previous plan that never got off the ground after Atlanta-based Americold abruptly pulled out in June 2018. The MDOT proceeded anyway, working with Eimskip and others to assemble a new consortium.
Ahead of the groundbreaking, Gov. Janet Mills noted the importance of Portland's working waterfront and its importance to the state's economy, supporting commercial fishermen and facilitating international trade that has "put Maine on the map."
"With this new and much-needed state-of-the art cold storage facility," she said, "we are expanding Maine's competitive edge on the international stage by ensuring that businesses are able to keep food production, storage and distribution local — rather than out of state — and saving them money on transportation costs.
"This is a win for our fishermen, our local businesses and our economy — and I am glad to get it done in a climate-friendly way."
Andrew Nelson, a principal at Treadwell Franklin, said that while COVID, supply-chain disruptions and rising construction costs have delayed the project, the developers "never wavered in our commitment to, at long last, bring cold storage capacity to Maine to support the continued growth of key sectors."
The MDOT has dedicated $8 million for the early-site part of the project, according to a press release ahead of today's event. No further financing details were immediately available.
Matthew Burns, executive director of the Maine Port Authority, said the addition of the facility at Portland's International Marine Terminal "takes the port and the state to a much higher level in the realm of international trade."
For more information, please visit https://www.mainebiz.biz/article/years-in-the-making-a-55m-cold-storage-facility-breaks-ground-in-portland?utm_source=Hootsuite&utm_medium=linkedin&utm_term=&utm_content=6eb4857d-4247-4759-914f-1a39506e01f4&utm_campaign=mainebiz
Also see WMTW Channel 8 news coverage here: https://www.wmtw.com/article/portland-breaks-ground-on-massive-cold-storage-facility-promising-statewide-economic-benefits/40959701