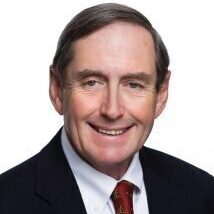 David Howes
Advisory Board Member
Dr. David Howes began his medical career as a family physician serving the small, rural fishing community of Stonington, Maine.  This experience taught him the power of primary care in improving health outcomes and reducing the cost of care.  He brought this philosophy to Martin's Point Health Care in 1989 as a primary care physician and now serves as the President and CEO, a position he has held since 1996.  Deeply committed to the Martin's Point mission, David has dedicated his career to creating a healthier community.
David is involved with numerous health care and business organizations. He serves on the Board of Directors for the Alliance of Community Health Plans, the US Family Health Plan Alliance, and the Maine Guaranteed Access Reinsurance Association.
He is also a current member of the American College of Physician Executives and the American Academy of Family Practice.
David earned his medical degree from Dartmouth Medical School in Hanover, New Hampshire, and served residencies at the Dartmouth-Hitchcock Medical Center, the Medical Center Hospital of Vermont in Burlington, and the Eastern Maine Medical Center in Bangor Maine.
Outside of work, David enjoys spending time with his children who are scattered across the world, as well as many outdoor activities including sailing, hiking and biking.