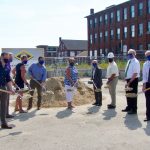 In September of 2019 the Biddeford City Council Voted to enter into a Joint Development Agreement with Treadwell Franklin Infrastructure Capital (TFIC), Amber Infrastructure (Amber) and James. W. Sewall Company (Sewall) to:
Create and establish Biddeford Innovation, Inc.
Provide up to $3 million to complete the next phases of the RiverWalk/pedestrian improvements.
Design, build, finance, operate and maintain a parking garage on the 3 Lincoln Street property, and to manage the surface parking lots within the downtown area.
On August 11th, 2020 the city and it's partners broke ground on a 640-space parking garage. The garage will support parking needs for development of the Biddeford's Mill District, including the future mixed-use development planned for the 3 Lincoln Street site as well as the Lincoln Mill and Riverdam Mill redevelopment projects already underway.
Project FAQs
640-space parking garage built on the 3 Lincoln Street property.
Completion of RiverWalk/pedestrian connections and provision of funding, up to $3 million.
Proveds a long-term viable, safe and reliable solution to parking congestion issues in Biddeford, supporting local businesses, tourism and the community.
Allows the City to work with a private firm with expertise in parking to develop and operate the parking garage while maintaining control over decision making.
Provides for economic upside to remain with the City.
Certainty of timing and completion of the parking structure and RiverWalk.
No/minimal impact on City bonding capacity.
Facilitates continued Mill District and downtown development.
Biddeford Innovation Inc. In The News
Biddeford mulls 640-space downtown parking garage, and a parking outsourcer
City Council approves Biddeford Parking Garage project
Biddeford breaks ground on RiverWalk parking garage
Biddeford public parking garage topped off
https://wgme.com/news/local/first-parking-garage-opens-in-biddeford
Additional Project Resources
Downtown Parking Garage Project Information
Biddeford Parking Garage Final Panel Placed