Biddeford parking garage, a symbol of the city's rebirth, opens
July 15, 2021
When Alan Casavant spoke from the ground floor of Biddeford's new parking garage on Tuesday, July 13, he talked about vision.
He also talked about the recent past too — going back 10 years, when he was first elected mayor of this old mill city, built on the banks of the Saco River many years ago.
"Ten years ago, this was an incinerator," said Casavant, recalling the days when Maine Energy Recovery Company burned garbage on the site, turning it into energy.
But those days are over, as the city's textile mills, some idle for decades, are being transformed into living spaces and working spaces at a rapid pace.
Ground was broken on the garage in August 2020 after the City Council a year before had voted to enter into an agreement with Treadwell Franklin Infrastructure Capital to develop and manage a new parking garage and surface lots and continue the RiverWalk project. TFIC joined Amber for execution of the development projects. PC Construction was the general contractor for the job; the project manager was Mark Donovan, who lives in Biddeford and said he was proud to have been a part of the project "in the city where I live and that I love."
Read more at:
https://www.pressherald.com/2021/07/13/biddeford-parking-garage-a-symbol-of-the-citys-rebirth-opens/
First parking garage opens in Biddeford | WGME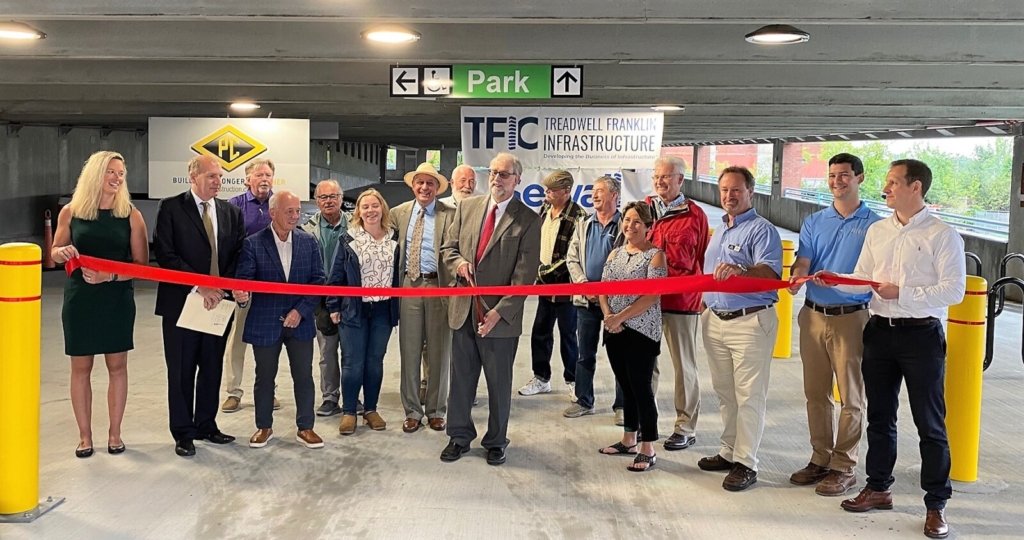 Among the ribbon cutters were (left, front row) Heather Hayes, PE, Sewall; Stephen Jones, TFIC; and George Campbell, TFIC.
The new Biddeford parking garage is seen below.